As you splash around in your backyard swimming pool and delight in the outdoor oasis you've created, you don't want a shadow of risk to dampen your fun — or that of your family and friends. By reducing risk of drowning and knowing how to respond if drowning occurs, you will greatly increase the positive effects of your outdoor time. The same is true of sun protection. So far in this series (see Parts 1, 2 & 3), we've been focusing on understanding and avoiding sun damage; but let's face it, we're all human, and sometimes we forget or fail to apply what we know. So today we're going to take a look at how to respond when sunburn does occur, particularly for adults, older children, and teens.
First Step in Treating Sunburn: The Cool Down
A sunburn is a type of burn, so like other burns, you'll want to cool it down as soon as possible. Since it is typically not relegated to an isolated area, though, you'll want to immerse the body in cool water. Since you have a swimming pool, it can obviously provide that necessary cooling, but be careful to make sure you don't prolong exposure to more UV rays and, as a result, more damage. After a quick dip in the pool or a slightly longer soak in an indoor cool bath, you can pat the skin dry and then continue to cool the skin by use of a cold compress. (You don't have to go buy anything; simply a bag filled with ice water will do just fine.)
Until the burn heals, you'll want to avoid long showers or baths, since greater exposure to water can actually end up causing further drying of the skin. You'll also want to be cautious about soaps, which may cause further irritation to the skin.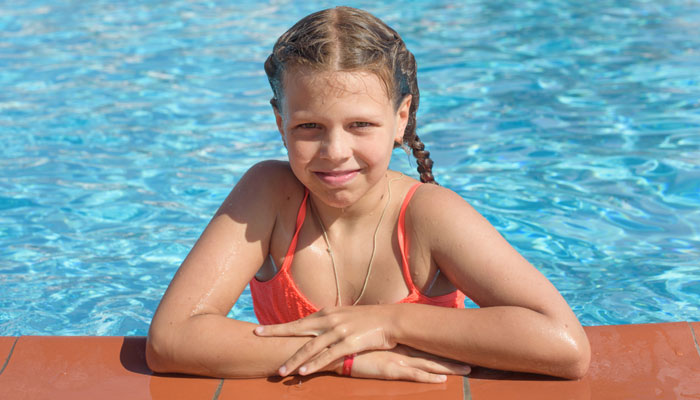 Second Step in Treating Sunburn: Moisturization
Ideally while the skin is still damp, you'll want to moisturize the skin. Be sure to use a gentle moisturizing lotion and re-apply it whenever the burned skin no longer feels moist to the touch. You'll want to avoid any products that contain petroleum or any other oils, which will actually trap the heat. You'll also want to stay away from any lotions that include a fragrance that can cause irritation to the already damaged skin.
Third Step in Treating Sunburn: Medication
Since sunburn is an inflammatory response of the body, an NSID, or non-steroidal anti-inflammatory drug, can help reduce discomfort from the sunburn; popular options include ibuprofen and aspirin. Another over-the-counter option is cortisone cream (1% cortisone) which can help reduce swelling and redness associated with the burn. Another topical option is aloe vera, which can be helpful in treating more mild sunburns. (Of course, as with any medication, be sure to check with your physician first.)
Fourth Step in Treating Sunburn: Increase Hydration
As with any burn, the site of your sunburn will channel fluids from the rest of your body, in order to aid in the healing process. As a result, dehydration can become a concern. You'll want to be aggressive about rehydrating your body by drinking plenty of water. (By the way, you might be flirting with dehydration in general, if you're like most Americans. Be sure to check out this hydration calculator to see how much you should be drinking, based on your weight and gender.) You'll also want to consider sports drinks, which can help replenish your electrolytes during the healing process.
As your skin heals, be especially cautious about exposure to direct sunlight and wear soft, breathable clothing that offers plenty of coverage.
Continue reading with Part 5.
Read More About Pools
• What's So Great About a Lap Pool?
• The 4 Different Types of Inground Pools
Lyon Financial
Since 1979 Lyon Financial has made the backyard resort dream come true for over 400,000 families across the U.S. Through our solid relationships with more than 3,000 pool contractors and our continued commitment to putting our clients first, we have built a reputation as the first choice in providing pool financing solutions. For more information, visit lyonfinancial.net or call (877) 754-5966 today.