If you're a pool owner awaiting the beginning of swimming season, finding new ways to make your pool even more exciting and aesthetically pleasing may be high on your priority list. We've already discussed some of the available options, such as adding a water slide, water features, or upgraded lighting (see Part 1 & 2). In this article, we'll turn our attention to a couple of structural changes you can make to your pool's setup. These two features are ideal for people who use their pool for entertaining and relaxing with friends and family.
Stay Refreshed at Your New Swim-Up Pool Bar
Getting out of the pool and shuffling through the house in wet feet to get yourself and your guests a cool drink or a snack can be a real hassle. Instead, you could join pool owners who are on the cutting-edge of poolside entertaining by installing a swim-up pool bar. You could go with something simple, or get one which rivals the the elaborate pool bars found in fancy resorts! Just think of all the time you'll save. It's even more convenient than having to load a cooler up with ice and drinks and store it on the patio. Your swim up pool bar will be a big hit this summer for those pool parties, backyard barbecues, or informal gatherings with friends and neighbors after work.
In case you're not familiar with these ingeniously-designed poolside beverage and snack centers, here's a description. They consist of a covered area with a refrigerator, sink, and a counter that extends to the edge of your pool. Your guests could just walk up to the bar while still in the water. For many swim-up bars, there's an underwater area adjacent to the countertop with stools installed right into the floor of your pool. You can conveniently serve your guests their favorite refreshing beverages. Then they'll be able to sit and sip their drinks without ever leaving the pool. Talk about creating a sense of luxury!
Relax & Unwind on Pool Sun Shelves
Another way to increase your level of satisfaction with your backyard pool is to install sun shelves. These are small areas you can add along the interior walls of your pool that are just slightly below the water's edge. They're perfect for sitting on directly while you're in the water. You can also set your patio chair or chaise lounge on them if you want to sun yourself while still being able to stick your fingers or toes in the water. These are a great feature for people with young children or grandchildren who are first being introduced to the water. You can sit on the sun shelf in comfort with your little one on your lap and let them safely explore the water without their relying on a float or their needing to be carried in your arms.
Incorporating these two features may be your ideal way to add a bit of class and comfort to your backyard pool for the upcoming summer season. In our final installment of this four-part series, we'll look at how adding some external features around the poolside area can upgrade your pool even more.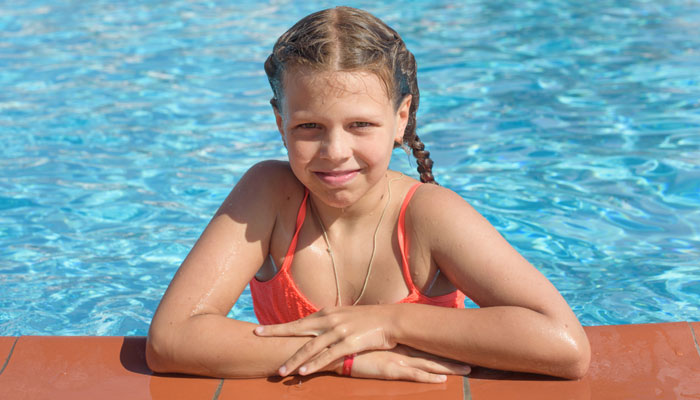 Read More About Pools
• Pool Safety for Pets
• Texas Loves Pools, and We Love Texas!
Lyon Financial
Since 1979 Lyon Financial has made the backyard resort dream come true for over 400,000 families across the U.S. Through our solid relationships with more than 3,000 pool contractors and our continued commitment to putting our clients first, we have built a reputation as the first choice in providing pool financing solutions. For more information, visit lyonfinancial.net or call (877) 754-5966 today.