As a pool owner, you're probably looking forward to a summer filled making happy memories splashing around in your own piece of backyard paradise with your family and friends. There's nothing that quite compares to the refreshment and relaxation your very own pool has to offer. Unfortunately, unless you live in the middle of the desert, you'll always have those rainy days that pop up and spoil your summertime fun. But once the rain's over and the sun comes back out, you and your loved ones should be able to jump right back into the water, right? Well, not quite. Added rainwater can wreak havoc on the delicate chemical balance of your pool. You may even notice a difference in your pool's appearance after a heavy rainstorm. In this article, we'll take a look at how rainwater affects the water in your pool and what you can do to remedy the problem.
Algae, Dirt, and Debris, Oh My!
Instead of being made of just pure water, raindrops can have all sorts of other substances in them that can be carried right into your pool. Algae spores in the air and on overhanging tree branches are some of the worst culprits. Both wind and raindrops can deposit these unwelcome guests into your pool, leading to unhealthy contamination of your pool water. Rain and wind can also bring other bits of debris and dirt into your pool as well. Yuck! Talk about a mess!
If the dirt, debris, and algae that are tossed into your pool during a rainstorm are allowed to sit there, they can produce a harmful chemical reaction in your pool. The chlorine that makes your pool water safe to swim in can end up losing its potency. Even worse, the algae that are feeding off of organic bits of debris in your pool can start to grow, thrive, and reproduce! This is especially true for a pool that gets lots of warm sunlight.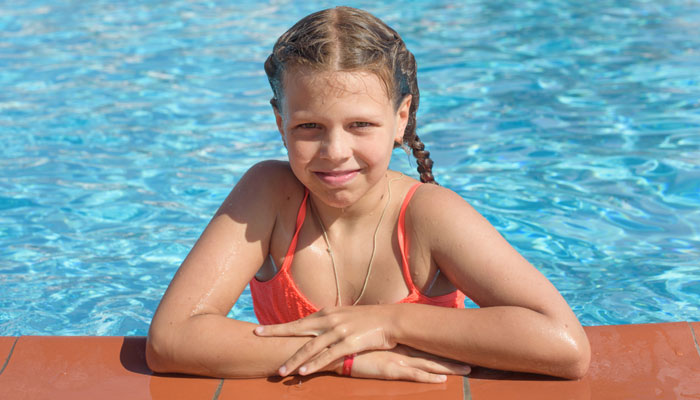 Algaecide to the Rescue!
So, what do you do to save your pool from becoming overcome with a massive algae bloom? Make sure you have plenty of algaecide on hand for just such occasions. You'll need to keep some test kits in stock as well so you can closely monitor the chemical levels in your pool. Be sure to dump enough algaecide into your pool to combat algae reproduction levels. Always follow the manufacturer's instructions for recommended amounts so you don't accidentally add too much algaecide to the pool. After all, in your zeal to get rid of the algae you don't want to go overboard and end up making your pool water unsafe for swimming!
Perform a test of your pool's chemicals methodically after each rainfall. If your pool's total alkalinity isn't in the target range, adjust it according to the instructions included with your pool chemicals. It's crucial to keep your pool's chemicals balanced to help ensure that everyone who swims in your pool will stay safe and comfortable.
As the old saying goes, "Into every life, rain must fall." As a pool owner, be ready for those rainy days. Make sure to test and chemically treat your pool on a regular basis so your family and friends can enjoy a happy, healthy swimming season.
Read More About Pools
• Swim Your Way to Fitness Without Breaking a Sweat!
• What's So Great About a Pool? Our Top Ten Reasons!
Lyon Financial
Since 1979 Lyon Financial has made the backyard resort dream come true for over 400,000 families across the U.S. Through our solid relationships with more than 3,000 pool contractors and our continued commitment to putting our clients first, we have built a reputation as the first choice in providing pool financing solutions. For more information, visit lyonfinancial.net or call (877) 754-5966 today.